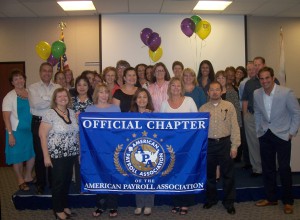 Orange County Chapter,
American Payroll Association
1439 W. Chapman Ave., #28
Orange, CA 92868
The Orange County Chapter, American Payroll Association (OCCAPA) are a non-profit, autonomous and independent chapter of PayrollOrg (formerly the American Payroll Association).  Established in 1985, our mission is to provide continuing education to Payroll, Finance and Human Resource professionals in Orange County, California. Our members consist of Payroll, Human Resource and Finance professionals and vendors in the Payroll, Tax and Human Resource fields.  All sizes of businesses are represented and welcomed.
We offer monthly educational and networking opportunities, as well as sponsor both CPP and FPC study groups each year to help members with their preparation for the exams.  Certified instructors also earn Recertification Credit Hours (RCHs) for CPP re-certification.
Our chapter meetings serve as a foundation for group members to network and develop lasting friendships with fellow payroll/HR professionals.  We also offer a great opportunity for members to learn about issues affecting payroll in our area.
For further information about the Orange County Chapter, use the following links and address:
Payroll Community Involvement
OCCAPA participates and is involved in many of the payroll community's functions, including:
Contact E-mails
Need further information? Please contact us by mail at our address above or using the following e-mail addresses:

Orange County Chapter, American Payroll Association